MARCH RECIPE: Scallop Aguachile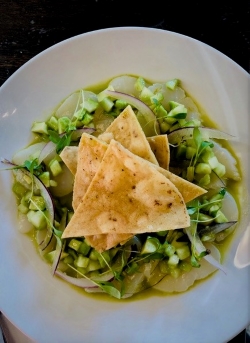 A Spring STUNNER from Rob (Founder) and our team at BOB's LOBSTER WINE BAR & KITCHEN
INGREDIENTS
6 Scallops
3 Limes, juiced
Micro herbs (optional)
Avocado, diced
1/2 Cucumber, peeled, de-seeded and thinly sliced, seasoned with salt
1/2 Red Onion, thinly sliced
Lightly salted Corn Tortilla Chips
AGUACHILE BROTH:
3 Limes, juiced
1/2 Cucumber, peeled
1 Jalapeño, sliced
Coriander leaves
Mint leaves
Parsley leaves
Tarragon leaves
2 Tbsp Extra-virgin Olive Oil
2 Tbsp Water
1 Garlic Clove
1/2 Tbsp Sea Salt
METHOD
Carefully shuck the scallops from their shells removing the skirt and roe. Using a sharp knife slice the scallops finely and add them to lime juice. Cover and leave refrigerated for 30 min, or until they turn translucent.
To prepare the Aguachile Broth, blitz the ingredients in a blender or food processor and strain through a fine mesh.
Arrange the scallops evenly on 2 plates and top with red onion, avocado & micro herbs. Pour over the aguachile broth. Serve with tortilla chips!
QUESTIONS? WE're Here to help! EMAIL STTHOMAS@BOBSLOBSTER.COM